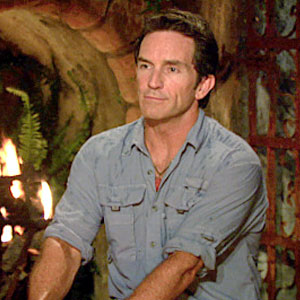 The Emmy-winning host has signed a new deal to return for two more seasons of TV's longest-running hit reality competition series, which CBS just renewed for 2011-12. But is Probst still in talks to replace Regis Philbin? We have some answers, plus the rest of the news from TV world in today's roundup…MORE: Glee-Dux: Who brought sexy back, and who stopped it dead in its tracks?
Before Piers Morgan replaced Larry King, Probst had been considered one of the candidates for the retired talk-show host's job, and he is still being name-checked as a possible successor to Philbin, who is leaving Live With Regis and Kelly sometime this year.
CBS has not yet announced Survivor's next location (back-to-back seasons are now filmed at the same site), but fans can look forward to seeing Probst in his signature chambray shirt and khakis when the 23rd and 24th seasons air in fall 2011 and spring 2012.