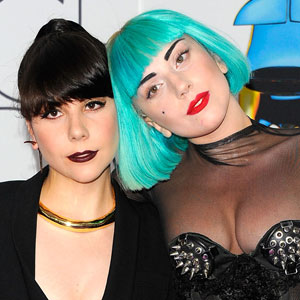 Growing up in a house with Lady Gaga means you know all her secrets—like how under all those weird layers, the meat-dress wearing singer is just a completely normal human being.
That's according to her sister, Natali Germanotta, anyway.
Gaga's younger sibling is opening up to Teen Vogue about her "Telephone"-singing sibling and what it's like to actually be related to her. Let's just say a little weirdness does run in the family…
Germanotta, 19, studies fashion at Parsons in New York City, is much more subdued than her older sis. Obviously.
When it comes to her own style and dressing herself every morning, there's no placing herself in an egg or gluing prosthetics to her cheekbones. Instead, she says she wears mostly black, and an everyday uniform she calls "witchypoo."
As for her sister, whom she calls "Stefi," likes to wear, baby Gaga says she wouldn't go there herself.
From E! Online.