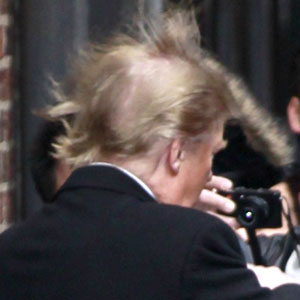 Do we really need to take Donald Trump seriously as a presidential candidate?
Well, there's one celebrity who is definitely taking the whole Trump-for-president freak show seriously:
And that's Donald Trump.
If 10 minutes went by without someone turning a camera on him, Donald's coif would implode. The force of the catastrophe would create an unholy singularity lined unto infinity with photos of Donald Trump.
And no one wants that.
The latest bluster comes via the New York Times. During an interview, Trump teases, "On May 22, we have our live finale. That will be a two-hour live finale, from either Lincoln Center or at Skirball hall at New York University. They both want it. I think it will be at N.Y.U. Sometime prior to the firing, I may say, that on such and such a date, on such and such a time, probably at Trump Tower, on 56th to 57th street on Fifth Avenue, I will make my decision as to whether I run for president, by the end of the show."
In other words, he plans to announce that he aims to discuss perhaps one day talking about running for president—so tune in to The Apprentice finale to witness the first step of this historical miracle!
Or not.